Wagashi: Edible Art on the Plate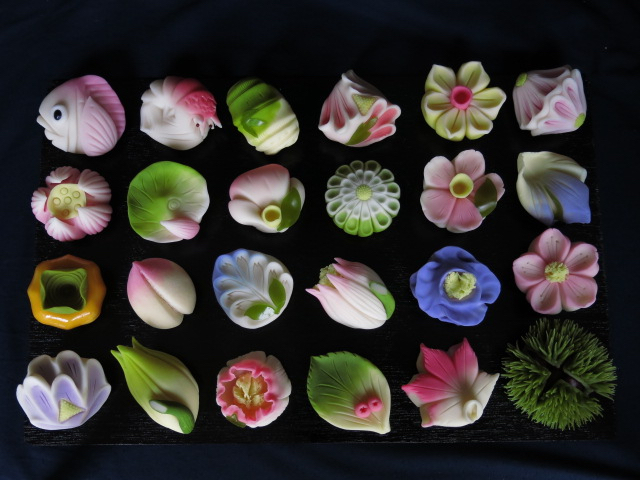 Wagashi – traditional Japanese style sweets are pure art on the plate. Only skilled confectioners can make such beautiful, elaborate, and fine art. We can call them artisans as they inspire us. Wagashi is deeply related to four seasons in Japan as it brings you the air of each season and memories.
Brief History of Wagashi
Originally, sweets are nuts and fruits in ancient times. The naturally sweet flavor must have enchanted ancient people.
Although they had nuts, it couldn't be eaten raw, they grated into powder and put them in water and removed foam. Shaped them like balls, it's supposed to be the beginning of dumplings.
The rice cake was born which is said to be the first Japanese processed food and there's a record of it as a ready-eat meal in 934.
The rice was pretty precious and treated as such. Only after the Edo era, sugar has been used widely which came in Japan around 750. Before that, rice syrup, malt, and Ama-Dzura (concentrated ivy's water) syrup had been used.
Then Kentoushi – Japanese missions to Tang China (630- 894) brought back Tang's confectionery, which is thought to be a huge influence on wagashi.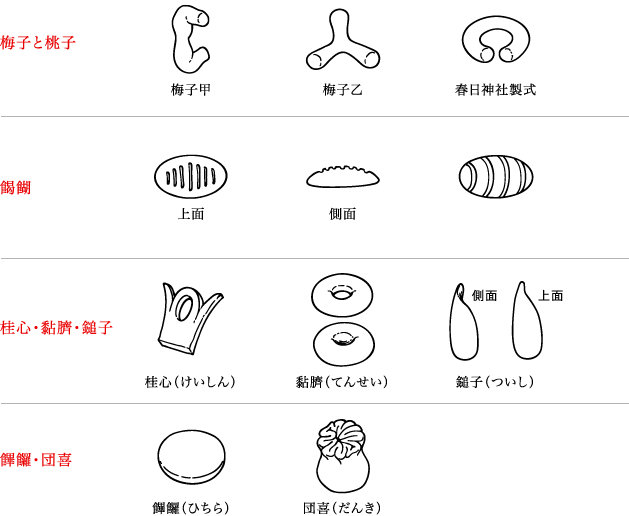 After the tea came from the continent, tea drinking culture gained its popularity. Wagashi and tea culture were developed together, the way of tea immensely blossomed in the 1200s.
Chado: "The Way of Tea" Cultivates Hospitality and Zen Spirit
Coming to the Edo era made it come true to enjoy its culture since there was no war. Confectioner produced wide varieties of Kyo-Gashi (wagashi of Kyoto) and Edo-Gashi (wagashi of Edo), most of the sweets we eat today had produced at this time.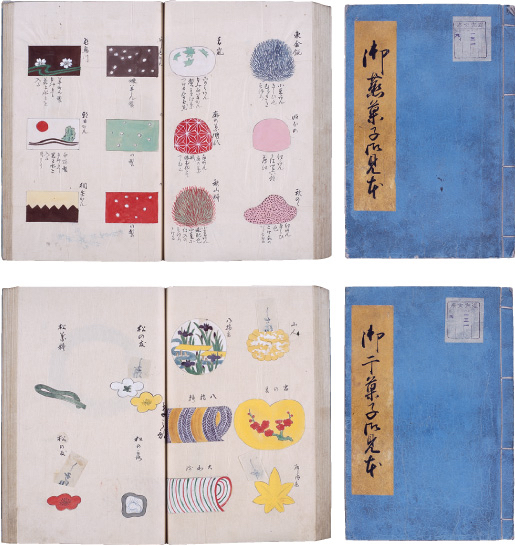 After the Meiji era, western culture was pouring in, it was a big thing the oven was introduced. Pretty popular baked sweets such as Kuri-Manju (steamed chestnut bean-jam bun) and Castella (Kasutera, Japanese sponge cake) were born in this period.
Wagashi with seasons
Many wagashi are related to the particular season. Especially in the way of tea, they serve wagashi which represents the season and appreciate the beauty of it. It shows how much the Japanese people love nature, with different affection for each season.
Spring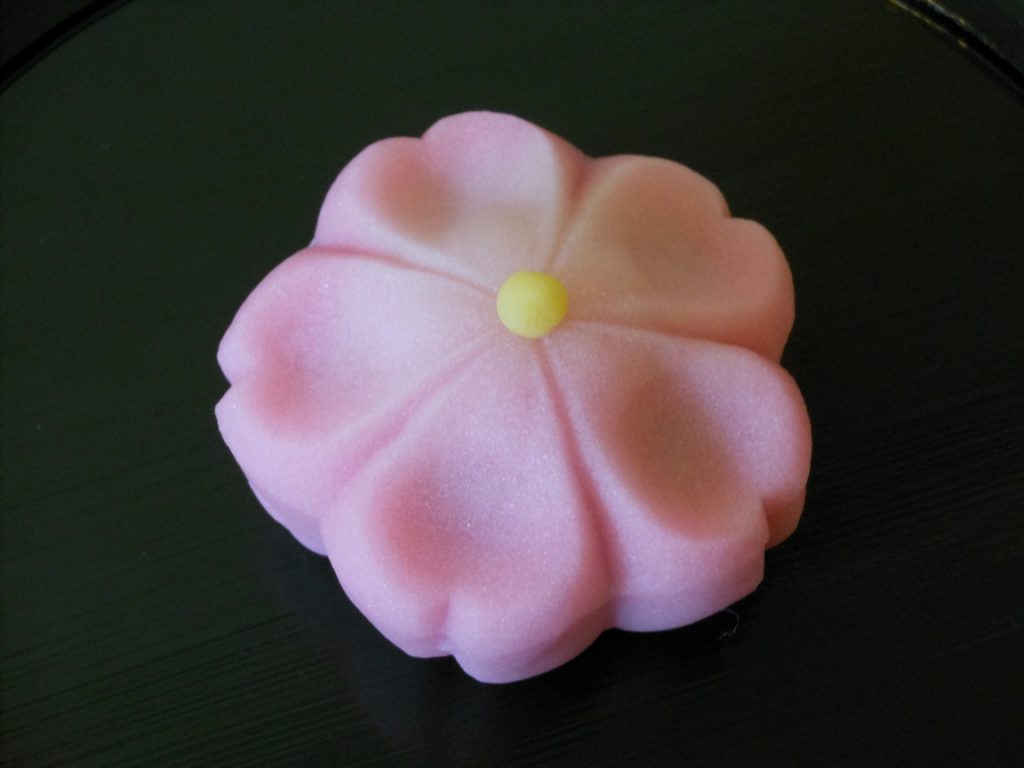 Taste of spring on your tongue. The cherry blossom shaped cake is truly eye-pleasing and brings you the sense of warmness.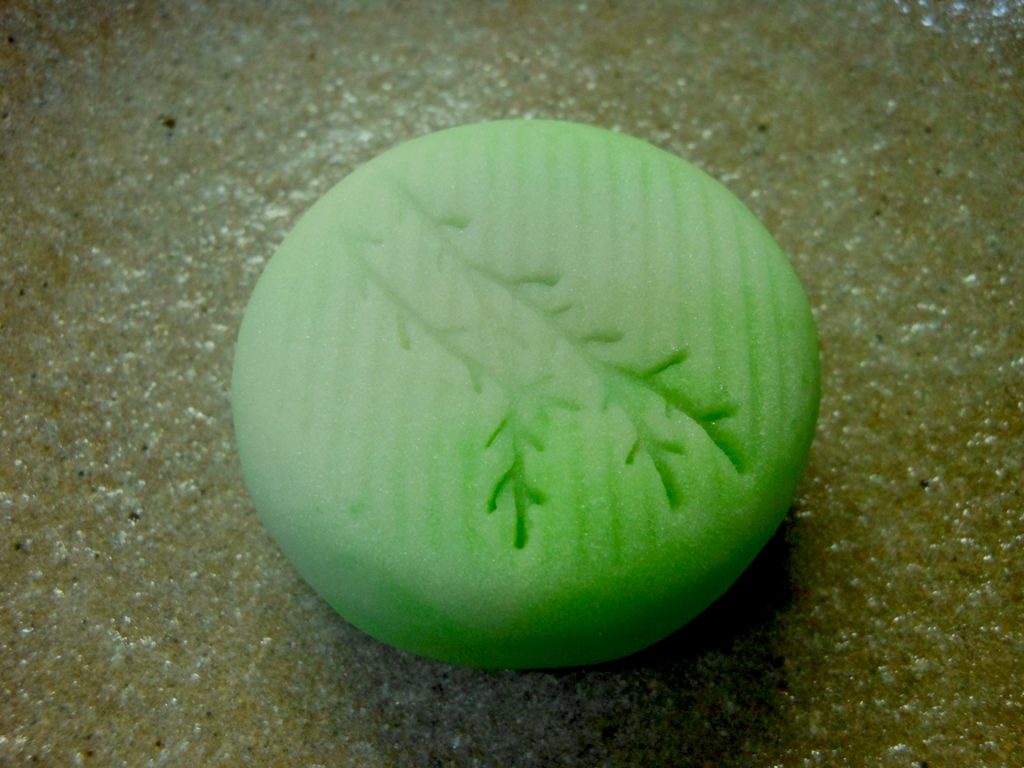 This sweet expresses swinging Yanagi (willow) in the spring breeze. Inside it, there are strained sweetened red beans.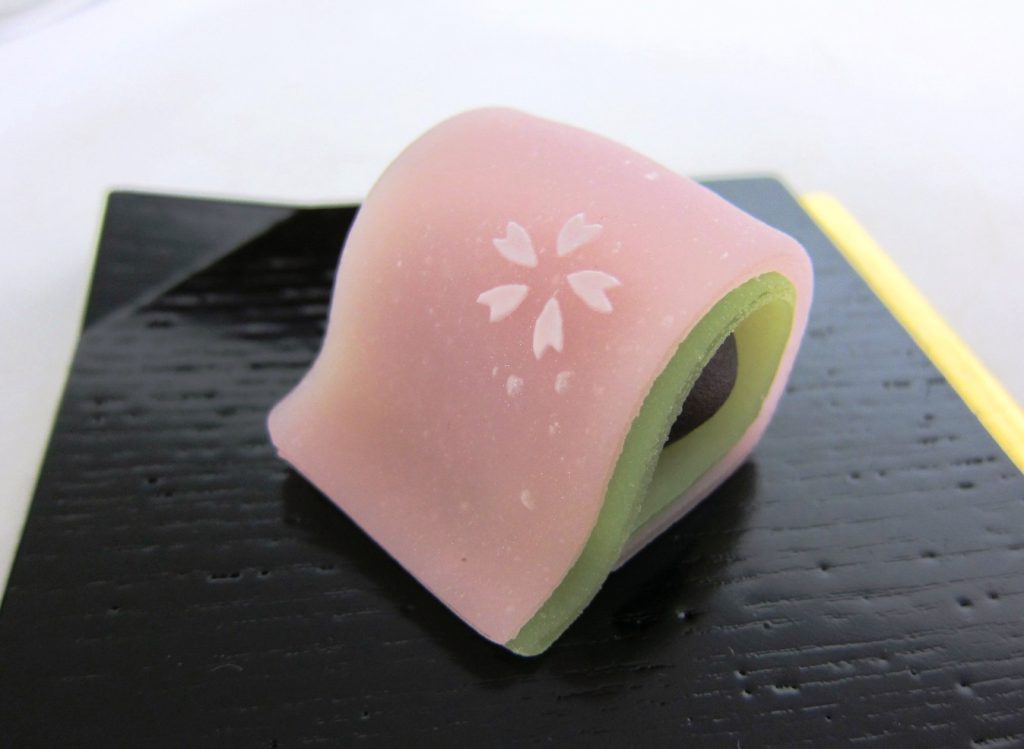 It looks as if it were a piece of kimono. It's made of rice powder and steamed. You can see Anko (strained sweetened red beans) inside.
Summer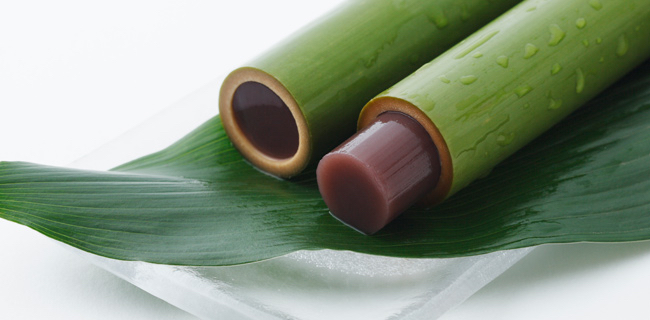 Another summer sweets, this is made from strained sweetened red beans with agar. Usually, it's made in a rectangular container, but this version is in bamboo which makes them very unique. Summer sweets contain a lot of water, which not just help to drop your body temperature, but also it has a cooling effect to the eyes and mind.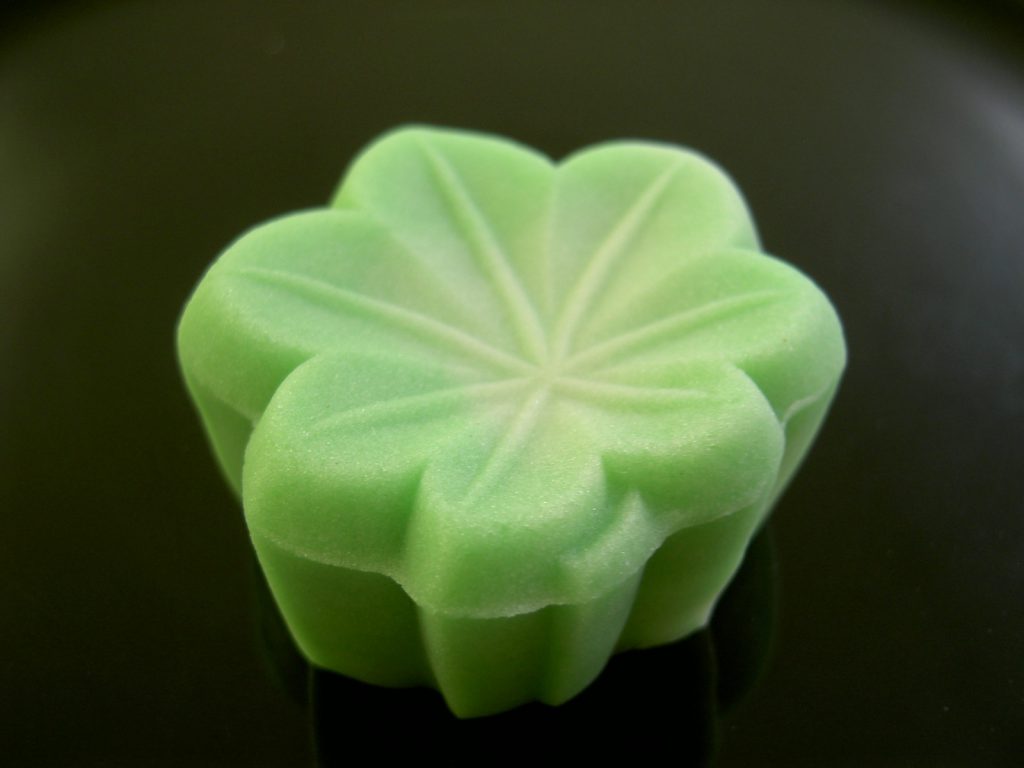 Green Japanese maple makes you feel the cool breeze in hot summer.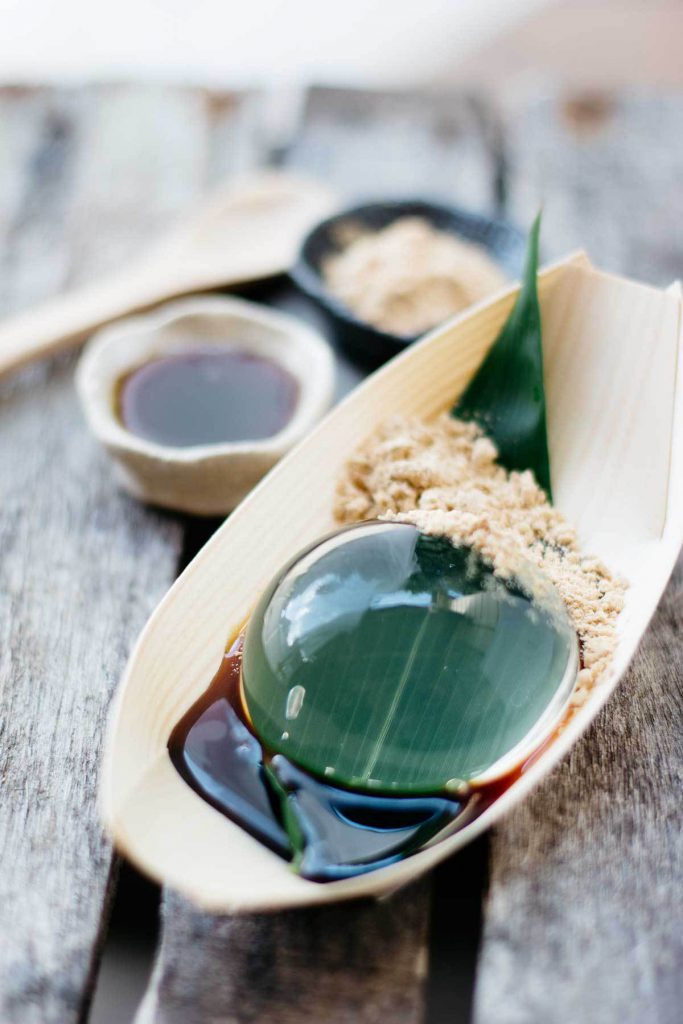 It's a jelly-like dessert made from mineral water and agar powder. It's crystal-clear like a rain drop, which has almost no taste. You sprinkle roasted soy powder and pour brown sugar sauce (Kuromitsu" in Japanese), they taste clean and sweet. Soy powder is rich in nutrition and brown sugar contains a lot of minerals, this is a low-calorie, healthy sweets you can have without a guilt. The look goes perfectly with summer.
Fall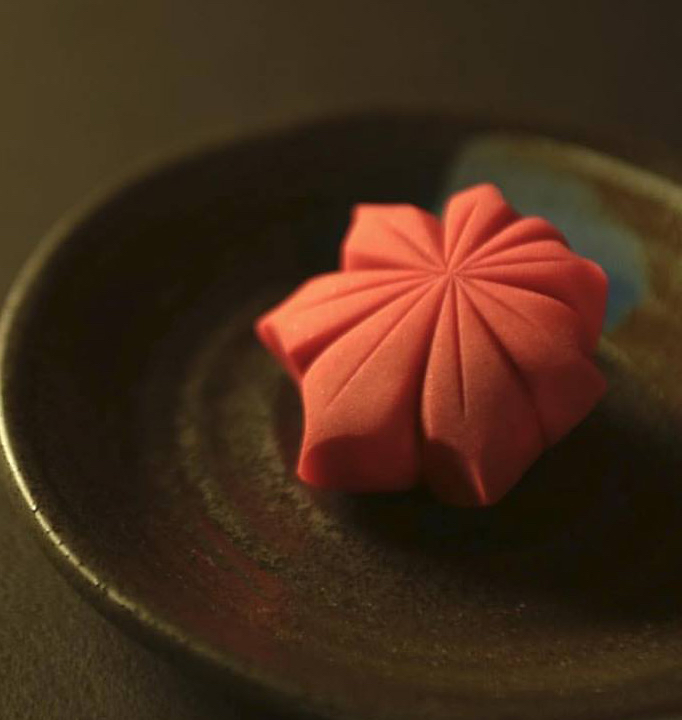 In fall, everything in nature changes its colors to the warmer hue. Red and orange sweets keep your heart warm on the contrary to the air getting cooler.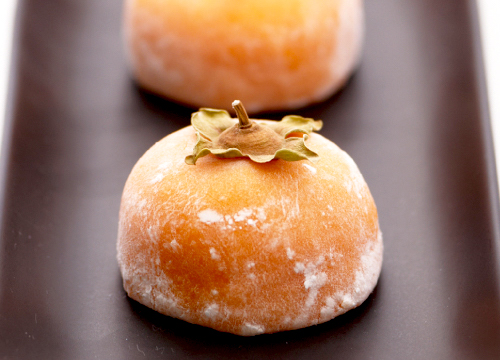 It looks like a real Japanese persimmon and actually real Japanese persimmon is kneaded into its dough.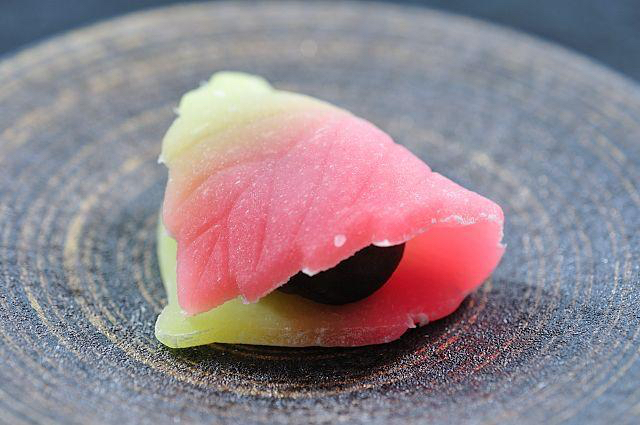 Folded leave turned almost red. It reminds you of fall, the scenery filled with vivid red, yellow and orange. Having this with tea would be a nice way to spend one fall afternoon.
Winter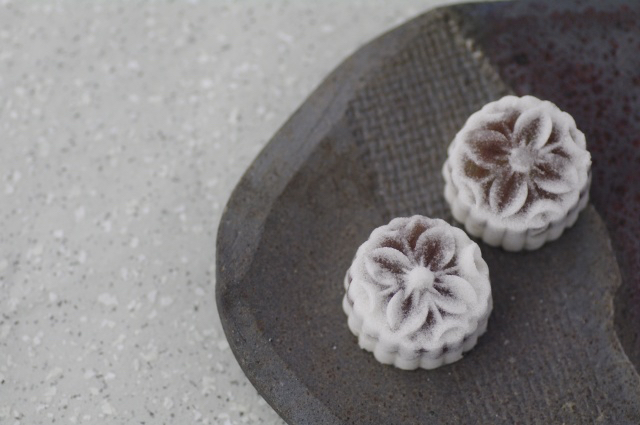 It expresses frost flowers, which appear only the temperature drops under -20C with no breeze. Steam touches small projections on the frozen surface, crystalizes, and develops frost flowers. A very rare sight to behold.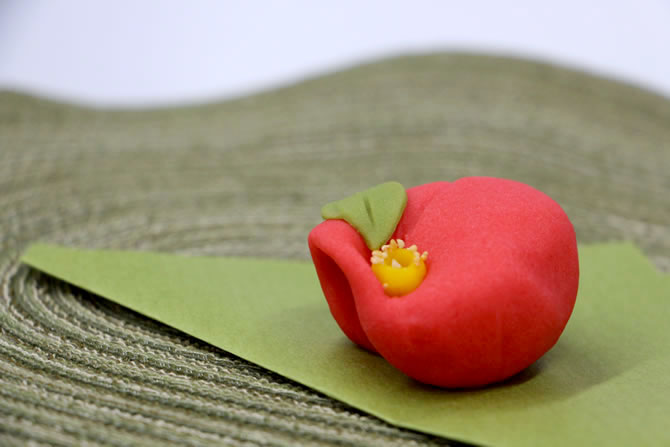 Japanese red camellia in white snow is a typical sight in winter in Japan.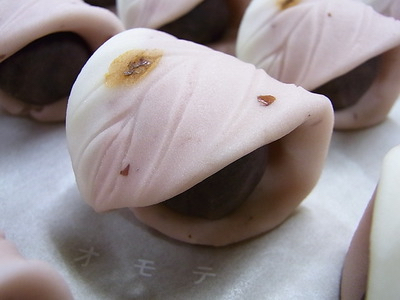 It expresses winter leaves. Inside, you can see Anko (sweetened red beans) sandwiched.
If you happen to be in Kyoto, there are many good cafes to enjoy these wagashi with great tea. Kyoto Saryo – 京都茶寮 is a great place to start. It's located in Kyoto station, which makes it easy access.
Also, in Tokyo, some cafes serve you good wagashi, but you can go to the basement of department stores, which is called "Depa-Chika" where they carry a lot of wagashi from all around Japan. We can assure you just looking at them makes you feel delightful. Shinjuku would be the best place to start since there are several established department stores.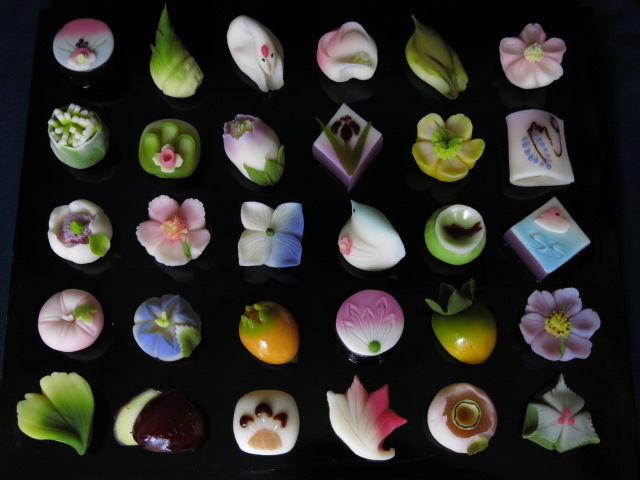 Related Articles
Dorayaki: Best 5 Bean-Jam Pancake Shops in Tokyo
Yatsuhashi: Delicate Little Triangle Sweet from Kyoto
Matcha: 5 Delightful Green Tea Sweets Shops in Tokyo
Senbei: Best 5 Rice Cracker Shops in Tokyo You Can't Miss
Daifuku: Only The Best 5 Rice Cake Shops in Tokyo
Chado: "The Way of Tea" Cultivates Hospitality and Zen Spirit