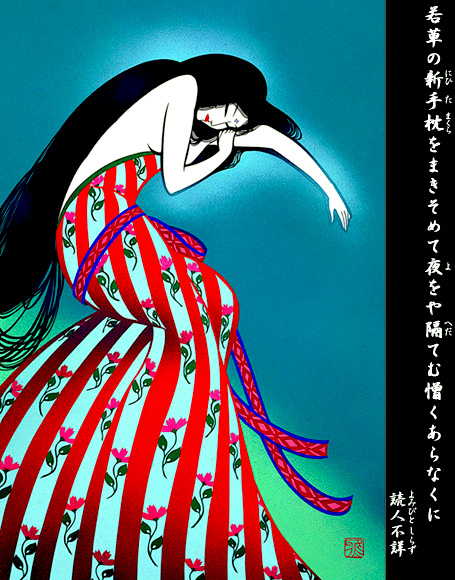 Kirie – Masayuki Miyata is a Japanese Kirie (paper cutout) artist who published a lot of work. He established his own style of Kirie, which is called Tosei-ga. Flowing and powerful lines give the object a life and leave a strong, sometimes mysterious impression on a watcher.  Especially women with long black lustrous hair gives unforgettable impression,  sensual women in his cutting watch us back with those mesmerizing eyes.
Who's Masayuki Miyata – Kirie
Masayuki Miyata was born on 30 October 1926 in Tokyo, Japan.
He began his career as a book illustrator as he was discovered by Jun'inchiro Tanizaki, who was one of the major writers of modern Japanese literature.
Miyata cut several illustrations for Jun'ichiro's books and after that, his works would gain popularity among a large audience.
Miyata once mentioned his style in an interview.
Paper Cutout – Kirie
Kirie, a paper cutout is originally invented and developed in China.
However, Miyata is taken as a leading authority as there is Masayuki Miyata's Memorial Office of Art in the Shanghai library, also, Masayuki Miyata's Art Research Institution was opened in the Art School.
In the Shanghai library, there are hundreds of Miyata's art works, used blades and memorable stuff are displayed.
Man'yo Koi-uta – Love Songs from Man'yoshu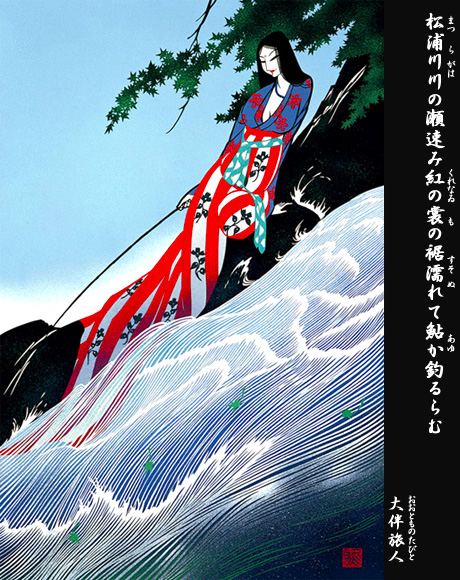 Man'yoshu (万葉集 –Collection of Ten Thousand Leaves)is the oldest existing collection of Japanese poetry, compiled some time after 759 AD during the Nara period.
The anthology is one of the most revered of Japan's poetic compilations.
The Man'yoshu is widely regarded as being a particularly unique Japanese work, even in comparison with later works, in choosing primary Ancient Japanese themes, extolling Shinto virtues of forthrightness (真: makoto) and virility (masuraoburi).
In addition, the language of many entries of the Man'yoshu exerts a powerful sentimental appeal to readers.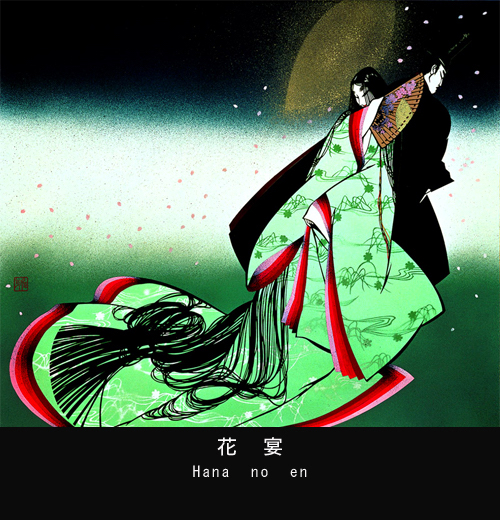 Genji Monogatari (源氏物語 -The Tale of Genji ) is a classic work of Japanese literature written by the noblewoman and lady-in-waiting Murasaki Shikibu in the early years of the 11th century, around the peak of the Heian period.
It is sometimes called the world's first novel, or the first psychological novel.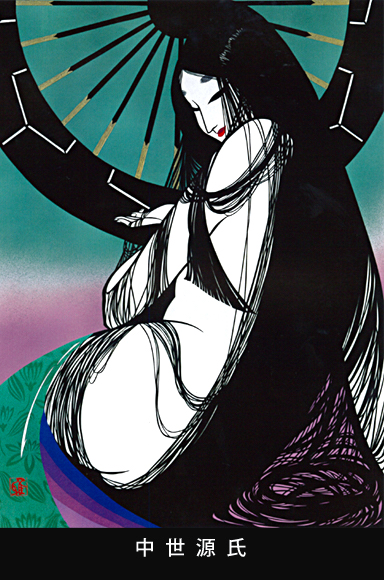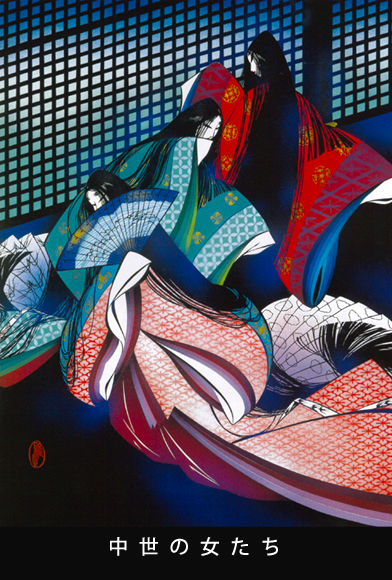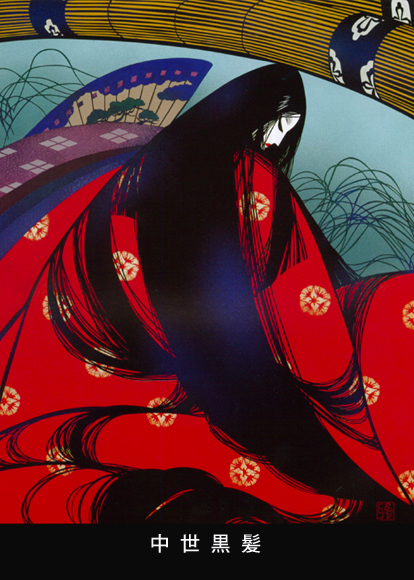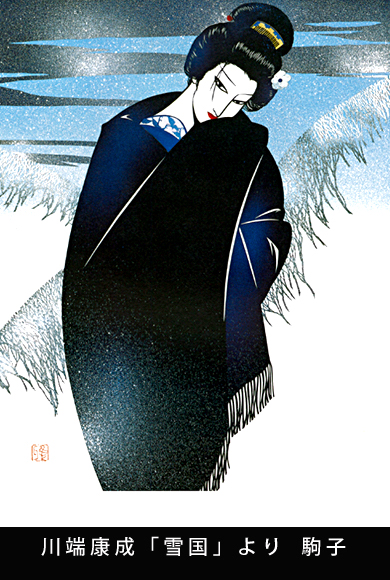 Yukiguni (雪国 – Snow Country) is a novel by Japanese author Yasunari Kawabata. The novel is considered a classic work of Japanese literature and was among the three novels the Nobel Committee cited in 1968 when Kawabata was awarded the Nobel Prize in Literature as the first Japanese author.
Yasunari is known for his spare, lyrical, subtly-shaded prose works.
Snow Country is a stark tale of a love affair between a Tokyo dilettante and a provincial geisha that takes place in the remote hot spring (onsen) town of Yuzawa.
Kawabata wrote main character Komako based on onsen geisha 'Matsuei' on his mind.
International Perception – Kirie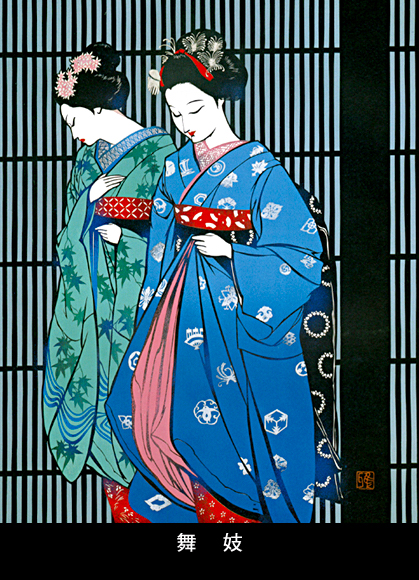 Miyata's Kirie is highly valued internationally, his works are in the United Nation, the White House, Vatican Museum, and much more prestigious art institution store his works.
Masayuki Miyata died on 5 January 1997. Just as other great artists' works never lose their attraction, his works keep on inspiring our imagination.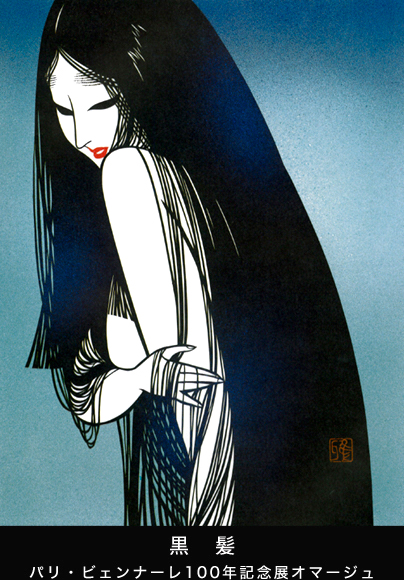 Related Articles
Sayoko Yamaguchi: Biography of the Legendary Japanese Muse
Origami Art: Fantastic Japanese Paper Folding Work